New collaboration to boost social housing in North Belfast.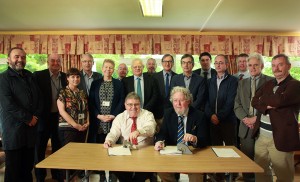 Two housing associations today announced a new partnership aimed at improving the provision of social homes and housing services across North Belfast.
The strategic collaboration, which takes effect from the start of April, will see Newington Housing Association (Newington) formalise links with Derry/Londonderry-based Apex and gain additional support and expertise in the areas of finance, personnel and procurement. As part of the move, Newington add to the 500 properties it manages by taking ownership of 231 new dwellings currently being developed by Apex across five sites in North Belfast. The tie-up will also enable private finance to be more efficiently secured for the delivery of much-needed new units in the area and reduce procurement costs.
Through the Intra-Group Agreement, both associations will continue to operate as separate organisations with their own Boards of Management and collaborate closely on strategic matters.
George Walsh, Chairman of Newington Housing Association said:
"This is good news for North Belfast, our tenants and those who are in acute housing need in North Belfast. It is an ambitious step forward that not only strengthens us as an organisation but, more importantly, enhances the contribution we can make towards meeting social housing need and supporting all communities in this part of the city.
 "The Apex group structure framework means we will retain our identity and status – that is important for us and our tenants – but grants access to high level professional support. It will enable us to realise better efficiencies, improve our services and increase our housing stock by almost 50% over the next few years."
Newington also confirmed that the security of tenancies and rents will not be affected and that tenants had been consulted ahead of the new relationship being agreed.
The Chairman of Apex, Martin Doherty, said:
"By enhancing the financial standing of the group through the inclusion of Newington, Apex will be able to increase its social housing output throughout Northern Ireland while, at the same time, help Newington to grow its presence and deliver strongly for all communities within its heartland of North Belfast.
 "Over the last seven years, Apex has been the biggest provider of social housing in Northern Ireland and this relationship will benefit both associations and make them more competitive. Apex is, for example, in the process of seeking contractors to deliver response maintenance service to our 5,000 tenants and this tender will now be extended to include Newington's housing stock."
In welcoming the new arrangement, the Minister for Social Development, Mervyn Storey MLA, said:
"This coming together of two of our most progressive housing associations is a welcome development. It will further enhance social housing delivery not only in North Belfast, but throughout the whole of Northern Ireland. Financial standing is key to developing more social housing and this new joint arrangement will allow that to happen. This amalgamation makes sense and I look forward to seeing the positive results it will bring."
Last year Newington completed two social housing developments totalling £9.2 million that have helped underpin community regeneration in the Limestone Road area of North Belfast. The association won the Working Together Award at the recent Chartered Institute of Housing Annual Awards for bringing interface communities together through the developments.