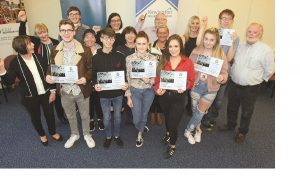 The winners of Newington Credit Union and Newington Housing Association's Student Bursary Scheme attended an awards evening in Newington Credit Union on Thursday, 18th October 2018.
The Student Bursary Scheme, which is launched annually to coincide with the commencement of the academic year, has been successfully delivered in partnership by both organisations for several years. It aims is to provide financial assistance to young adults and mature students who have recently committed to undertake a third level/higher level course or vocation.
In total, thirteen new recipients received individual bursaries this year. Ten of the awards were sponsored by Newington Credit Union, whilst the remaining three were sponsored by Newington Housing. These bursaries are then automatically awarded to the successful candidate on an annual basis, whilst they remain in education.
Representatives from both Newington Credit Union and Newington Housing Association were present to distribute the awards to the successful candidates.
Newington Credit Union Board Member Michael Devlin said 'On behalf of both organisations I wish to express our delight in receiving such a strong initial interest in the Bursary Scheme and also for us to be in a position to award this targeted financial support to the successful candidates. Combined, both organisations received nearly 70 applications; an increase on previous years'.
He went on to say 'Looking ahead, both Newington Credit Union and Newington Housing are fully committed to the continuation of the Annual Student Bursary Scheme and are also actively exploring new initiatives, which will hopefully further assist in increasing local educational attainment levels or which will help enhance communities and local individual lives in general.'
Martin Hamilton, Community Engagement Officer at Newington Housing went on to say 'We sincerely hope our financial contribution provides all the recipients with some meaningful support during this current academic year and looking ahead we wish them every success in achieving their own personal educational aspirations. On behalf Newington Housing, I wish to extend my gratitude to our partner organisation, Newington Credit Union, for their continued support and for their tireless work in delivering essential services to our tenants and others residing locally. On behalf of both organisations, I want to expressed our congratulations to all the successful candidates and wish them every success on their educational journey. I also want to thank all those who were unsuccessful on this occasion for taking the time to apply for an award. It must be emphasised that these awards are run annually and for those who are still in or intending to commence third level/higher level education next year, I would encourage everyone to re-apply'.