Useful Information to Tenants & Family Members
As we continue to live in these unprecedented times, many of those who are elderly or most vulnerable within our communities will undoubtedly suffer, unless they receive additional help, advice and support. The Association would encourage all tenants struggling to manage at home and in need of urgent assistance, to contact us immediately on 028 9074 4055 or alternative email admin@newingtonha.co.uk
Also below, are few alternative organisation who can provide assistance if or when required.
Belfast Community Helpline
Belfast City Council have set up a dedicated helpline which will provide advice and support for residents on:
information about food parcels 
information about prescription pick-ups 
help with emotional support advice
You can call our freephone number 0800 587 4695 between 9am – 5pm every day. You can also email covid19@belfastcity.gov.uk and give your name, address and the type of support you need.
COVID-19 Community Helpline – Regional number
The helpline is local to Northern Ireland, and is managed by Advice NI open 9.00 am to 5.00pm, seven days a week 0808 802 0020, email covid19@adviceni.net or text: ACTION to 81025 
Some of the many support services located within North Belfast 
Good Morning North Belfast provides a telephone support call alert service to the elderly and vulnerable adults. Service covers 7 days a week. They are working in partnership with other community organisations in North & West Belfast. They are fully committed to continuing their valued and much needed service throughout the potential hard time ahead. If someone needs help with shopping, posting mail, getting urgent supplies or just a friendly phone call contact Good Morning North Belfast on 90719200.
North Belfast Senior Citizens Forum are providing a benefits advice service over the phone and will fill in forms if they are left with them. If you require their service, please Tel: 07815311783 or email nbscf1@gmail.com
North Belfast Advice Partnership offers the following support srervices:
Benefit/debt advice
Employment advice
Food parcels
Gas and electric support
Access to Hot meals
Collecting Shopping and Prescriptions
To access this support, please email advice@ligonielvillage.com or phone 02890 391225/02890 715165/02890 351020/02890 391272 or 02890 746665.

Coronavirus & Scams
Scammers are calling home phones and sending text messages to mobile phones, which contain misinformation or could leave you out of pocket if you fall victim.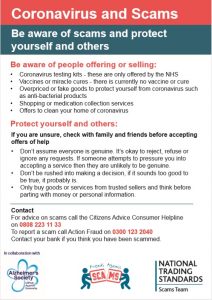 Some calls and texts claim to be from the Government, your GP's surgery, the NHS, or even the World Health Organisation (WHO). In the calls, a recorded message or caller will claim to be contacting you about the coronavirus. They might offer a test for the virus, a treatment or cure, or might offer to discuss your medical needs.
However, these calls are designed to encourage you to either speak to an operator, or press a button on your phone for more information. If you speak to an operator, you could be at risk of giving them your personal information or your financial details, which could result in identity theft or financial loss. If you press a button on your phone you could be connected to a high-cost premium number, leaving you liable for a significant call cost.
Scam texts – what to look out for
Scam texts often include links or attachments which can't be trusted. Don't click on them. Always check the URL – it may not link you to the UK Government website. It may be a fake website which requires you to enter your personal details – it is a phishing scam.
If you think one of these calls or texts might be genuine – from your GP for example – you can call your GP's surgery separately to check whether they have tried to contact you.
Calls claiming to be from Ofcom
Some of these scam calls also claim to be from Ofcom. A recorded message or caller will claim that, because of more people working from home due to coronavirus, your broadband needs to be slowed down or switched off. As with the scam calls outlined above, they will try to encourage you to either speak to an operator, or press a button for more information. If you do this, you could face the same risks. Ofcom will never call you out of the blue like this. If you receive one of these calls claiming to be from them, please hang up.
Official Government text alerts
While keeping an eye out for scam calls and texts, remember that the Government has been sending out official alerts to mobile phones. They are being sent out gradually, so you'll receive one depending on which mobile network you're on. These are legitimate messages that contain updates on the latest Government advice. This could relate to rules for lockdowns, for example.
These texts will come from 'UK_Gov'. Remember, you do not have to respond to any of these messages – ust read it and delete it.
What to do if I suspect an attempt has been made to commit Fraud against me?
If you receive a call, text or other communication that you think might be a scam, hang up or delete the text once you have reported report it to Action Fraud. If you are contacted by call or text, please remember to retain the number that was used to contact you. You can do so by also going to https://www.actionfraud.police.uk/