Latest Information to Tenants (08/04/2020)
Do we have your up to date contact details?
Due to the ongoing government directive relating to social distancing, Association staff are currently working remotely.
We can still be contacted in the usual ways. It is essential that we have your up to date contact details (i.e. your home telephone number, mobile number, email address, next of kin contact details, etc.).
If you have recently changed your contact details, PLEASE LET US KNOW.
How do I contact the Association or keep up to date with the information they share?
(Main Office)                                                               Tel: 028 9074 4055
(Out of Hours Repairs/other emergencies)        Tel: 0800 731 3081
Email:                                                                            admin@newingtonha.co.uk
Website:                                                                        www.newingtonha.co.uk
Facebook:                                                                     Newington Housing Association
Twitter:                                                                          @NewingtonHA
Our Response Maintenance Service to Tenants
Due to the ongoing pandemic NHA will only be undertaking Emergency Repairs in our response Maintenance Contract. This decision was taken in the interest of the health and safety of our staff and the community, and of course to support the NHS.
All non-essential works will cease including routine repairs, planned works, grounds maintenance, heating installations, minor & major adaptation work and change of tenancy. This is to minimize the spread of the virus in keeping with Governments advice.
NHA Contractors will only be carrying out repairs that fall under an Emergency repair and undertake statutory servicing and inspection for health and safety purposes.
We have identified the following as what we would deem to be an emergency:
Heating systems that have failed, or, if a household cannot heat water,
Unsafe gas supplies/installation
Burst water pipes
Lack of electrical supply or unsafe electrics
Please continue to report all other repairs in the normal manner, by calling us on 028 9074 4055 or alternative email admin@newingtonha.co.uk and we will endeavour to complete these when Government Advice allows.
Our Property Services staff will ask tenants if they or anyone in the household is self-isolating so that our contractor knows they require a Risk Assessment to be carried out before entering your home.
Has there been a recent change in your financial situation?
Are you experiencing financial hardship and in need of immediate help, advice and support? Our dedicated staff team are here to support you during this difficult time.
For further information, please contact your Housing Officer directly on 028 9074 4055 or email admin@newingtonha.co.uk
Do you need Independent Benefits Advice & Support?
Below is a list of organisations who form the North Belfast Advice Partnership (NBAP). They offer Free, Independent, Confidential Advice & Information for people living throughout North Belfast. Newington currently have a partnership agreement in place with NBAP. If you are a Newington tenant and need immediate advice and support, please initially contact your Housing Officer, who can then ensure a direct referral/immediate referral request is made on your behalf.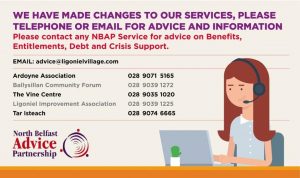 Are you having difficulty getting out for essential items?
We have been in contact with some local shops who are willing to carry out home deliveries to those who are unable to leave their home. For further information, please contact your Housing Officer on 028 9074 4055.
Making payments towards your utility bills and rental charges
We recognise that many of our tenants may be required to stay indoors and self-isolate according to government advice. Below is some advice from utility providers & Newington on how to top up online or over the phone to ensure you do not have to leave your home.
SSE Airtricity (Electricity)
Only electricity Top ups payments can be made online by visiting:
https://www.sseairtricity.com/ie/home/payments or by phoning 0345 601 9093
Power NI
https://energyonline.powerni.co.uk/guest-sign-in/ or by phoning 03457 455 455
You will need to have your card details and 19-digit premise number handy when you are topping up. Your 19-digit premise number can be found on your Keypad card.
Gas Prepayment Cards
Pre-payment gas meters in NI do not have the functionality to top up remotely or via an online facility. This means the only way to add credit is by topping up your card at a PayPoint outlet and by transferring the top up by inserting the card into your meter.
If you can afford to do so, why not consider topping up your meter more frequently to ensure your meter always has enough credit. For information, the maximum single top up amount is £49.
A trusted neighbour, friend or family member who lives nearby might be able to top up your card for you, if you cannot leave your home.
If you do not have someone to top-up your gas or electricity and you cannot do so yourself, please contact the Association immediately on 028 9074 4055 and we will make arrangements for you to receive support.
Paying Your Rent
The Association can help you set up a regular bank Standing Order for the payment of your rental charges. For further information, please contact your Housing Officer on 028 9074 4055.
Also, if you are having difficulties getting to a PayPoint, you can make a payment over the phone by ringing Allpay Payment Line on 0844 557 8321.
Welfare Changes/Advice Helpline
The independent Welfare Changes Helpline is available for anyone needing help or advice about any of the changes to the welfare system, including practical tips on how to make your money go further.
The helpline is operated by Advice NI as part of a range of additional services provided by the advice sector (Advice NI and the Law Centre NI).
Phone: 0808 802 0020 (between 9.00 am to 5.00 pm)
Additional independent advisers will also be available across all 11 council areas in Northern Ireland and located in local Advice NI offices to provide face-to-face help to anyone impacted by the changes to the welfare system.
In addition, specialist legal advice is available from the Law Centre and they can arrange access to specialist services when required.
These services are free for anyone who needs help or advice about any of the changes to the welfare system.
Checklist for staying at home
Food: do you have a way to get food delivered if you need to self-isolate?
Cleaning: do you have cleaning supplies?
Work: can you carry on working, including working from home? If not, can you find out your rights to payment or benefits?
Medication: do you have enough medication, or a way to get more?
Health: can you reorganise any planned therapy or treatments?
Connectivity: have you got ways to keep in contact with people you see regularly, like their phone numbers, email addresses? Do you need help setting up digital communication, like a video calling app?
Routine: can you create a routine or timetable for yourself? And if you live with other people, should you create a household schedule? Do you need to agree how the household will run with everyone at home all day?
Exercise: is there any physical activity you can do inside your home, like going up and down the stairs, using bean tins as weights, or exercises you can do in your chair?
Nature: have you thought about how you can bring nature into your home? Can you get some seeds and planting equipment delivered, or put up photos of green spaces?
Entertainment: have you thought about things to do, books to read or TV shows to watch?
Relax: have you got materials so you can do something creative, such as pencils and paper?
Help prevent the spread of infection
Like seasonal flu, the same public health advice applies for COVID-19 (Coronavirus): if you cough or sneeze, use a tissue to cover your mouth and nose, throw it away carefully after use, and wash your hands.
The best way to prevent the spread of infections, including coronavirus, is good personal hygiene. This means washing your hands regularly using soap and water and drying them with a paper towel.